Image Gallery
Here you will find some nice photos and comments sent to us by some of our puppies new families.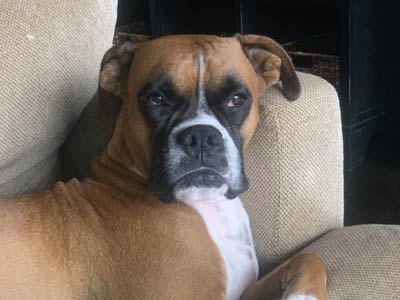 Thanks so much could not ask for a better Dog... we live in Chicago....and he's 2....great great dog....I cant tell you how many compliments we get!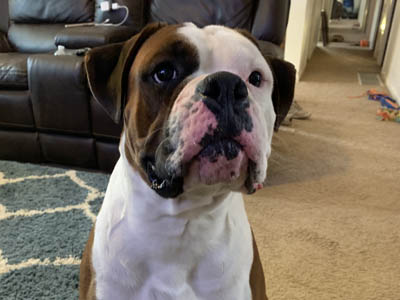 Here is a pic of Junior he is a playful, lovable, big baby and very vocal! LOL Great dog, wonderful with the kids and our other boxers we have! Junior weighs 100 lbs but still is very athletic and loves the Kansas City snow! Born 5/24/2017 parents are Maximus and Jazi. Thanks for a great dog!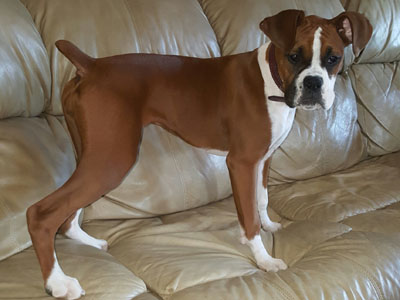 Hemi (formerly known as Gloria)is 6 months old now. We could not be more happy with her. We get compliments on her physical appearance as well as her personality all the time. She has not met a person that she didn't like. She especially loves playing with kids and other dogs. She is a "10" in all categories. Thanks for a great Boxer!!!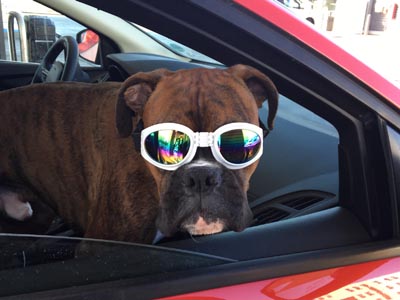 Oh my gosh...he is seriously the best dog we have ever had! He is so laid back, and such a little love bug! He really is awesome. We get compliments on him constantly. :) We just love him so so much! Thank you! - Amanda and Brandon, Minooka, IL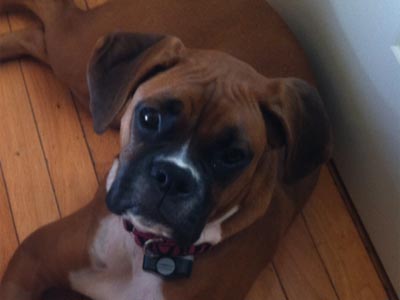 I figured I'd give you a update on Daisy (birth name Lilly) since it seems you enjoy posting pictures of past litters form all over the U.S. First let me start by saying thank you so much for the ease of the purchase on shipping our beautiful puppy we purchase from Riverhill Boxers she is a absolute joy and as you can tell from the attached pictures she has fit in perfect with our family. I have rcommended several friends to you and several bought. Daisy is now 7 months old and is beautiful we get so many compliments, our daughters absolutely adore her. Thank you so much you are all fantastic.
I just wanted to tell u how happy we are with Napoleon that we purchased from you... He was born nov 11, 2012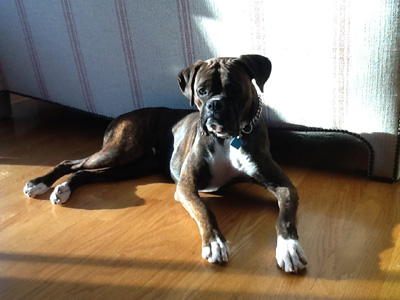 Hi guys,just wanted to remind you It's Oz's birthday. Please put this picture on the gallery or past pups.
Here is a recent pic of him! His name Nitto and he is wonderful. We love him. I have recommended your place to several people bc they love how Nitto turned out.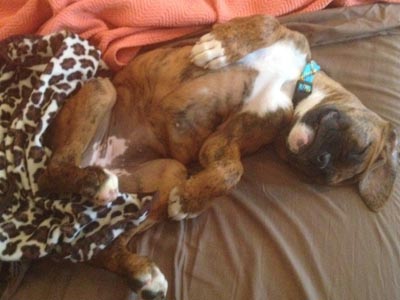 I wanted to take a minute and update you as well as say thank you! Dakota aka Halo is such a joyful addition to the family. She is just the sweetest puppy and we are so in love with her. She has fallen in love with our 9lbs chihuahua and it is a testament to her gentle nature as we don't worry about them together at all even though there is a big size difference. Dakota is adjusting quite well to the heat in the Virgin Islands, loves to run the beach and is learning to swim! I have recommend you as a breeder to a friend, as from the VI, who just lost her boxer/best friend to old age. Again thank you so much for the beautiful Dakota!!!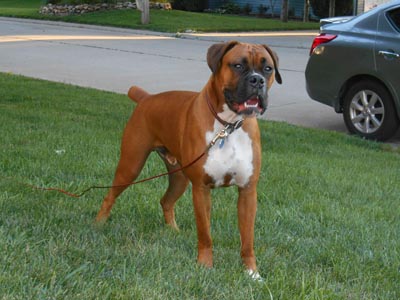 I have enjoyed my dog and would like to share a pic. Buddy has been great.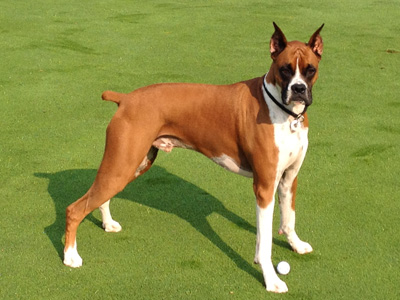 This is Mosley (A.K.A. Mack) that was born on April 13, 2012. Parents were Parson's King Ornie and Neal's Little Red Ruby. As you can see he has grown to be a very handsome animal. He spends every day with me on the golf course. The golfers get a big kick out of him. What a great dog! Thanks so much, David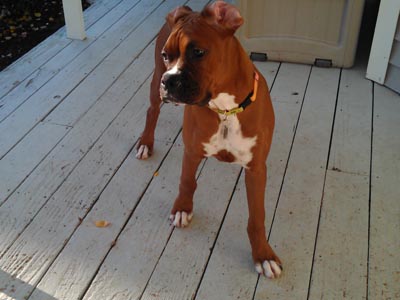 I thought you might want to see how Sam is growing. He is spoiled with love and growing like a weed. Thanks for sending us such a great puppy!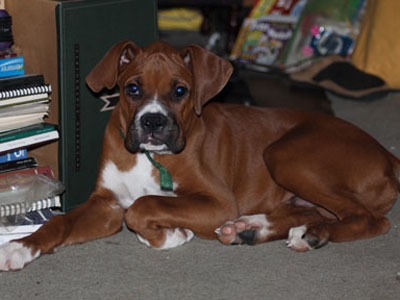 Brodie is doing great! He is growing like a weed. I have had to let out his collar twice now. He is a very fast learner. He sits at the door to go outside to go potty and when he comes in. I'm teaching him with voice and hand signals. He waits when asked at the door when coming back in at a sit and to go out. He also sits while I get his food and waits until I tell him it is ok to get up, go to his bowl and eat. He is learning to play fetch with a tennis ball. He loves to play with the tennis balls and also any rope. He is also learning that when mom and dad go up to bed that he gets to lay in bed with us and Gracie for about a half hour to hour before going in the kennel for the night (at least until he doesn't have any accidents at night). He learned how to walk up and down the flight of stairs to our bedroom upstairs the second time he tried. He is still learning "off" and "down" but that is going well also. He is also still learning what "go around" means as he likes to wrap himself around the post (4x4 wood post) on the deck/front porch that holds the roof. He is a very happy puppy but doesn't like to be in the kennel (large open wire) when we leave for work in the morning if we don't leave right away even though he is next to our other boxer "Gracie". You can see part of the wire kennel in some of the photos. We just love him and are very happy you allowed us to purchase him from you.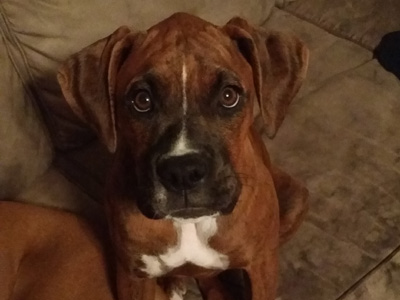 Yes she is pretty. I love showing her off I couldn't have been more happier with her. she is quite a character I have been posting pictures to your Facebook too. Thank u so much for her. ♥ ♥ ♥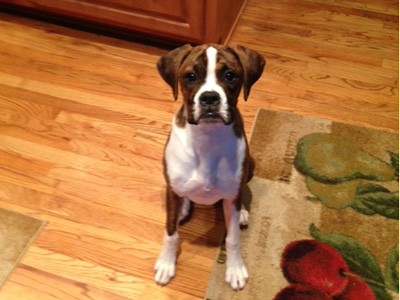 We have five acres in GA she loves to run around on! She is never more than five feet away from us! She is a great family dog! She is only 39 lbs and the vet said she is in perfect health. The whole vet's office was in love with her. Said she was the cutest and most petite boxer they had ever seen. We agree completely!! Thank you! Tasha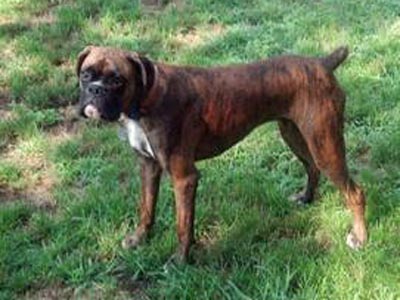 We remembered you said you would love to see who once was nicknamed "Buddy", a picture of him on his 1st birthday. His name is Oakley and he is the best puppy we could ever ask for. He loves everyone and everything, and loves to play with his 3 other boxer cousins. He goes to daycare a couple times a week as well and absolutely loves it. If you remember, he was a big pup and he is about 70lbs now. Here is a pic of Oakley here in CT.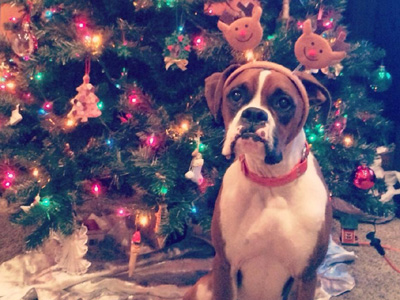 Here's some pictures of the wonderful buddy. He's the best dog anyone could ask for. He's a great looking dog, always getting compliments.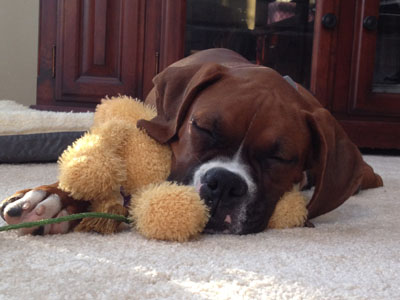 I wanted to share a few pictures of Emma (now Penelope Prudence, or Penny, or PP). She is just a wonderful member of our family. The vet told us that he could tell that you are a really good breeder by the quality of the puppy vaccinations given to her while in your care. I must also tell you that your socializer must be the best In the business because Penny now has to (not just wants to – it's mandatory) say hello to every person or doggie that crosses her path – it's only polite. She is also so smart. She's only 5 months old and can sit, give paw, lay down, heal, roll over whenever she's in the mood to listen. Although sometimes there are more important things to do, like play with a leaf or a ribbon. We were told that Boxers weren't lap dogs – we have to laugh, Penny's not a lap dog she's a two lap dog. My husband and I have to sit together on the couch so she can sit on both of us. As you can tell our family is completely totally in love with our little girl. Thank-you so much for bringing her (literally driving to meet us in St. Louis) into our lives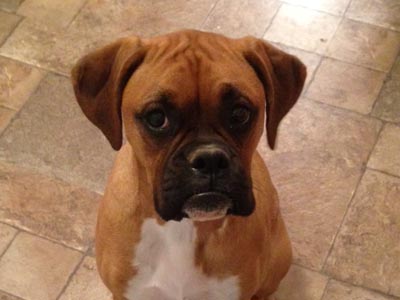 Not sure if you remember me but my family and I bought Sunshine off you and I wanted to send you some pictures. She is a great dog, great temperament, excellent with the children and is a joy to have. I would buy another boxer off you in the future.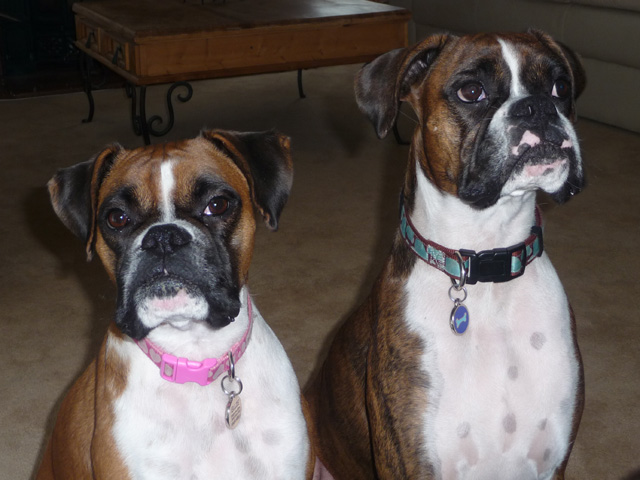 This girl and boy live in Sacramento, CA, they are both Riverhillboxer puppies!
Hogan after his ears were cropped. This big boy lives in Florida, and is the center of his family's attention!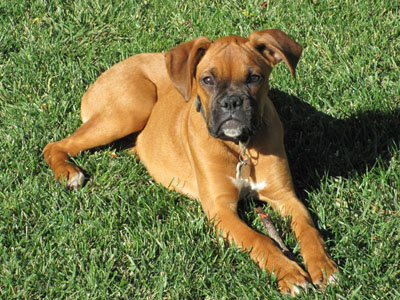 We wanted to let you know that Sarge is amazing!!! We're so happy. He's sweet, gentle, lovable and super cuddly. He's been such as wonderful addition to our family. We can't thank you enough!!! He is just PERFECT!
Roxana, Mike and Luke, Sarge's family in Los Angeles, CA.
she is doing absolutely amazing, she loves to be the center of attention, loves to say hello to anybody walking by and loves to play with dogs that are twice or three times her size, so far she has had the most fun with a newfoundland, she thought she was just as big as he was!
Zoies' Dad Matt, Parker, CO.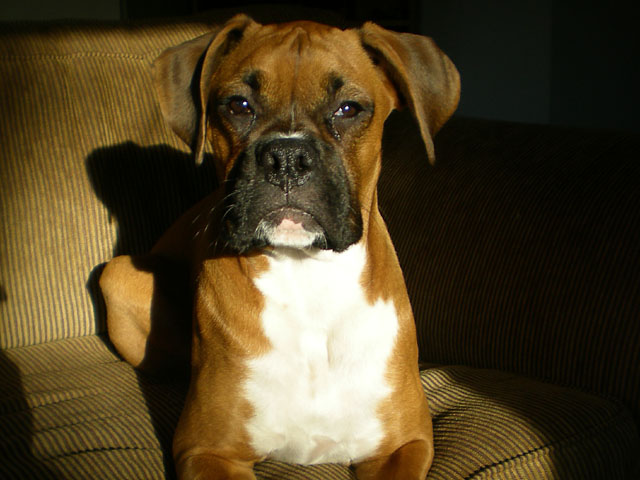 Here is an excellent picture of Rambo he lives in Chicago, IL.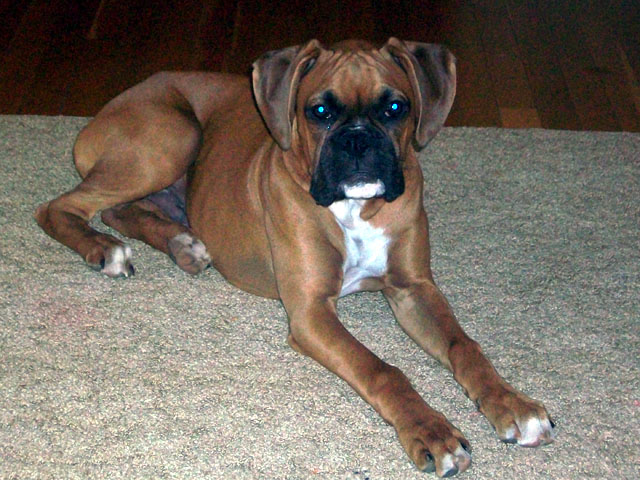 He is doing amazing. He follows commands excellent! Our daughter is having the best time with him. He has become her best friend.
Brady's Mom Connie, Ft. Leonard Wood, MO.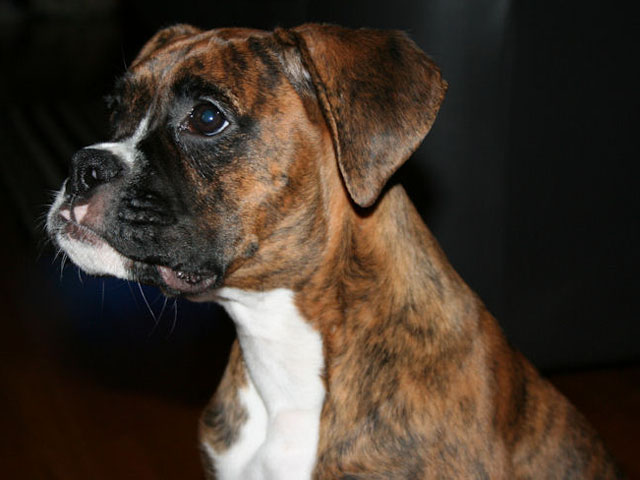 Thank you soo much for such a great dog!
Robert and Casey, Roxy's Parents, Lebanon, ME.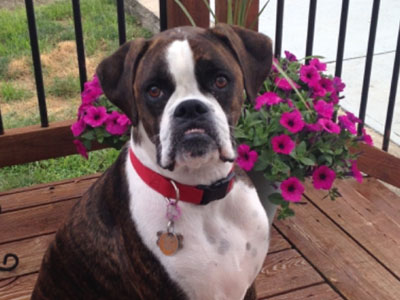 Roxie is turning two and thought you would like to see what a wonderful dog she has turned out to be. She is a real sweetheart.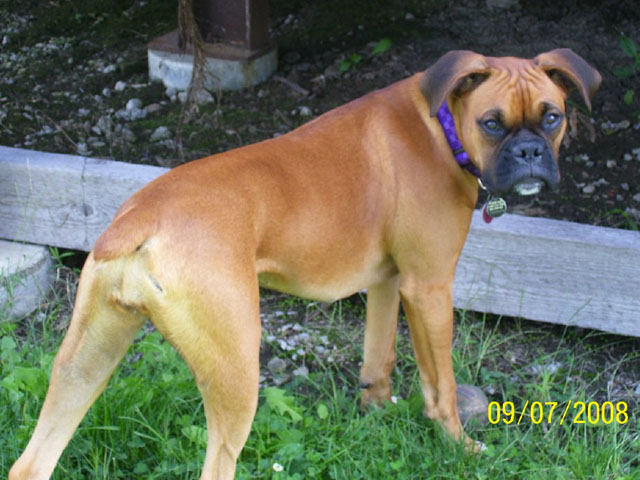 Hailey at home, McFall, MO.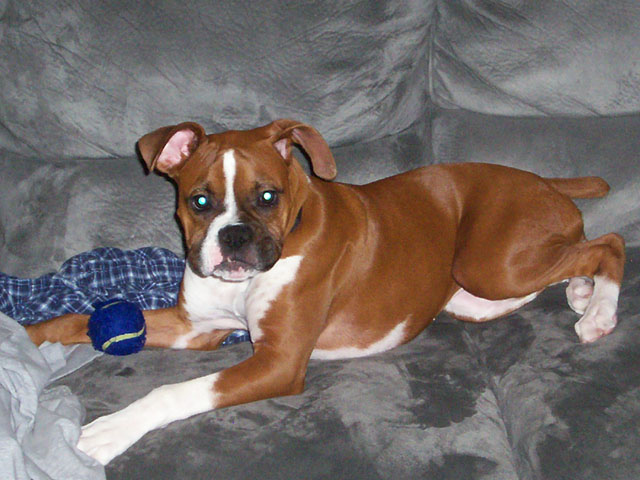 She is such a wonderful dog. When she's not getting into trouble HAHA. She is thriving and playful pup. We couldn't have gotten a better dog...
Liberty's Mom Niki, Milwaukee, WS.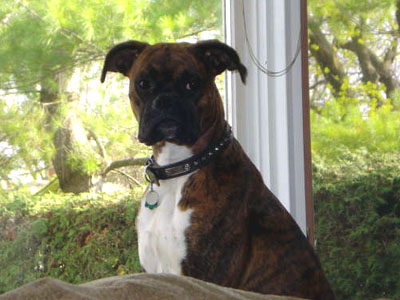 Leo in his natural enviroment, at home.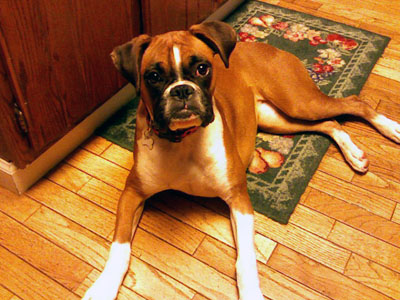 Dakota's 1 year birthday picture!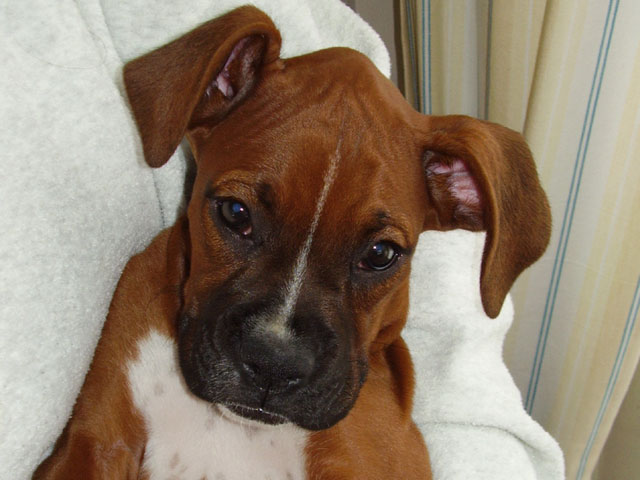 Dutchess comfortably lounging with her mom.
Princess a rare and beautiful mahogany female!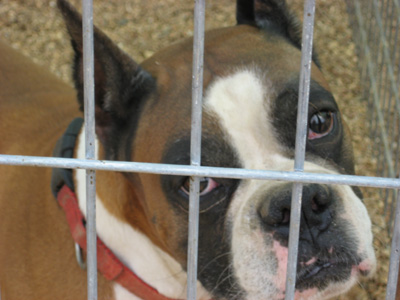 This is our Fawn male Cody with his big eyes looking sad about being caged all day.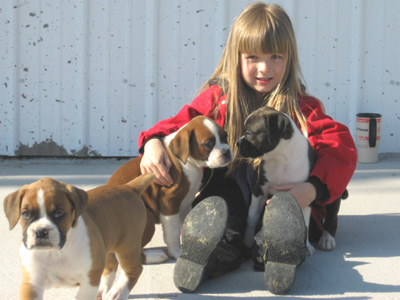 Puppy socializer Linda with Bailey's pups.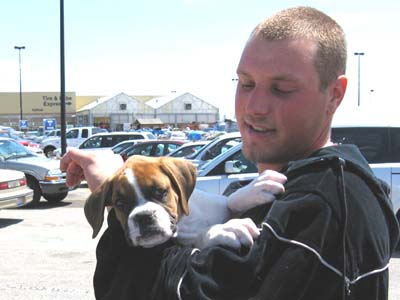 Bruiser with his new daddy, Dustin.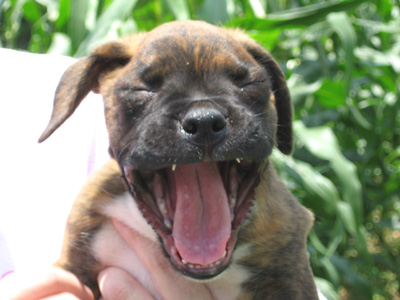 Look at this sleepy baby puppy!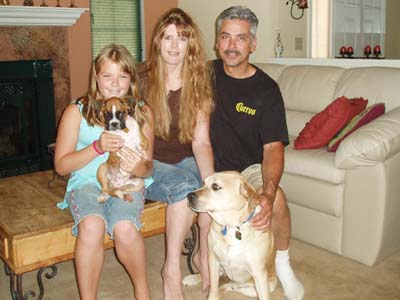 Dakota and her happy family!
Quick! You can't catch me!
All trademarks and copyrights on this page are owned by their respective owners. All else Copyright 2007-2019 Riverhillboxers.com. All Rights Reserved.