Welcome to our website!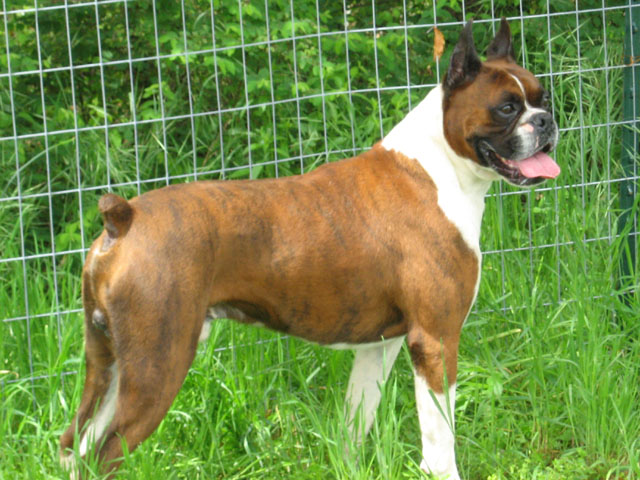 A photo of Rocky, the best Boxer ever, and the one who started it all!
We are a family owned operation that breeds champion bloodline AKC Boxer puppies. Our objective is to produce the highest quality puppies, for family pets and companions. We do not offer nor do we guarantee our puppies for show or breeding, instead we would rather they be considered by the people that adopt them as family members, preferably as children!
Our love for Boxers came about after we welcomed our first Boxer Rocky into our home. He is an amazing dog, and has been the backbone of our program, providing many of the adult Boxers that we have today. Although he is no longer used for breeding, his amazing personality seems to be what everyone we encounter is looking for in a Boxer. It's no accident that we chose to keep his puppies, they have the same laid-back and relaxed personalities as Rocky.
We are vigilant to assure that our puppies are the finest available, we use the best technology to closely monitor the mother and her babies for the first eight weeks. We work with and handle the puppies daily, pampering them helps to create superior emotional health. Three days after birth dew claws are removed and tails are docked by a licensed veterinarian. Vaccinations and deworming is completed utilizing a strict program, all documentation is provided. Pre-crate training begins at six weeks of age. Puppies are socialized with adult dogs and other animals, such as cats at an early age.
All trademarks and copyrights on this page are owned by their respective owners. All else Copyright 2007-2019 Riverhillboxers.com. All Rights Reserved.